MBA Hill/Stokes Memorial Youth Scholarship
The art of beekeeping is being encouraged through this youth scholarship program. Metro Beekeepers Association (MBA) began scholarships for youth in 2011.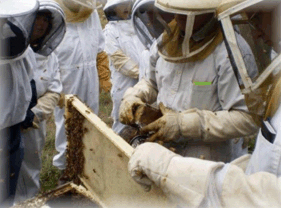 Objective
To educate youth in the art of beekeeping and to promote a better understanding of the value of honey bees to our environment and to the food chain.
To provide an opportunity for youth to experience responsibility and enjoyment through beekeeping.
To provide an avenue for youth to engage in an avocation and gain the potential to pursue beekeeping as a sideline or full time vocation.
The Award
A one year family membership in the Metro Beekeepers Association
An 11-month beekeeping course and course book.
A set of wooden-ware for a beehive.
A nuc or package of bees for the hive.
Beekeeping gear: hat, veil, gloves, hive tool, bee brush, and bee smoker.
Mentoring by a MBA member for one year.
Upon successful completion of the scholarship requirements, the recipient(s) will receive a recognition certificate and full ownership of the hive.
Eligibility
The applicant must be between the ages of 12 and 18 by September 1, 2017.
The applicant must be currently enrolled in public, private or home school.
The applicant must have permission and agreement from parent or guardian.
The applicant and immediate family cannot have any bee colonies prior to 2018.
The application must postmarked or e-mailed by December 7, 2017.
Submission of Applications or Questions can be emailed to:
E-Mail: StanKey.Texas@gmail.com
Or Mailed to:
Metro Beekeepers Association
c/o Stan Key
8413 Castle Creek Road
North Richland Hills, Texas 76182