The following beekeepers are members of Metro Beekeeping Association and all are registered with the state meaning they are exempt from pest control laws, they also have a permit which is required to transport the removed bees which is required by the State of Texas. Per law, no chemicals will be used to do removals. Make sure you always use a beekeeper that is registered with the state and has the required bee transport permit. MBA Members wanting to be added to this list, see requirements -- in addition to having required permit, you must be a current member, experienced with removals and approved.
If you meet the requirements and would like to be added to the contact list please send your permit #, contact info, & removal information to David Hawa
Let the beekeeper know if the bees are in a building, structure or simply hanging from an object such as a tree. A photo is often helpful too.
I HAVE BEES - NOW WHAT?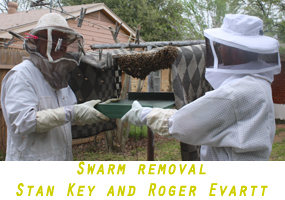 Don't panic. A swarm of bees looking for a hive site looks impressive, but swarming bees very rarely sting unless you whack at them.
Removals called CUT OUTS
If you have an established hive in a wall, attic or crawl-space, DO NOT simply spray the bees with bug spray. That leaves all the honey (and dead bees) in place. The dead bees stink and the honey attracts more bees and huge amounts of ants. The bees, honey, and hive will all need to be removed, and it's not a job for amateurs. See the beekeepers listed below for ones that state they do cut outs.
Alice Burkhart
TEXAS TRANSPORT PERMIT #TX-6-18-076
Alice Burkhart's Beekeeping Service
817-293-1782
Bee removals in Tarrant, Dallas, and Johnson counties
Andrew Kocher
TEXAS TRANSPORT PERMIT #TX-6-18-
817-602-4058
Bob Sumien
TEXAS TRANSPORT PERMIT #TX-6-18-003
We Rescue Bees
Burleson, Texas
817-692-2363 / bob@werescuebees.com/
http://www.werescuebees.com/
Brent Bennett
TEXAS TRANSPORT PERMIT #6-18-160
Swarm removals and more in the Fort Worth Area.
682-540-4433
Darwyn Flynn
TEXAS TRANSPORT PERMIT #TX-6-18-027
214-679-9143 / Darwyn.flynn@gmail.com/
Please leave a detailed message. Texts are welcomed.
Honey bee removals in Dallas & Collin counties
David & Stacey Moore
TEXAS TRANSPORT PERMIT #TX-6-18-004
817-781-0478 / Sweetiesbees.honey@gmail.com/
David & Stacey Moore: Experienced Beekeepers specializing in removals from structures & trees. Help Us Save the Bees!!.
Don Duhrkopf
TEXAS TRANSPORT PERMIT #TX-6-17-100
Haul'n Pollen Apiaries, LLC
713-857-1476 / HaulnPollen@yahoo.com/
Beekeeper will remove swarms, perform cut-outs, and conduct trap outs. Each job will be priced according to the various factors such as: distance, complexity of removal, hive characteristics, etc. Any restoration work as a result of a cut-out will be the responsibility of the home owner and a contractor of their choice. West Fort Worth/Benbrook and nearby cities
Eric Luebbert
TEXAS TRANSPORT PERMIT #TX-6-17-160
Fancy Pants Apiaries
Keller, Texas
817-993-0077 / eric_luebbert@yahoo.com/
Swarm removal/pick ups, cut outs, and trap outs. Pricing varies with distance, difficulty, danger, and size/scope of the removal. Serving Tarrant, Denton, Dallas, & Montague counties.
Henry Kelton
TEXAS TRANSPORT PERMIT #TX-6-17-230
940-765-2433 / rangerk@sbcglobal.net/
Swarm & hive removals in Tarrant, Denton, Parker, Wise, & Hunt counties. Pricing varies on difficulty of removal. Repairs to be done by contractor of customer's choice.
Jason Smith
TEXAS TRANSPORT PERMIT #TX-6-17-018
JC's Honey Bees
Weatherford
817-597-5922 / JCsHoneybees@gmail.com/
http://jcshoneybees.com/
Third generation beekeeper with years of bee removal experience. I am willing to remove bees from most any where in the DFW area. Services include swarm pick ups, cut outs, and trap outs. There is a charge to cover my time and expenses.
Jeremy Campbell
TEXAS TRANSPORT PERMIT #TX-6-17-132
We Bee Keepin
817-420-2945 / campbell.jeremy0319@gmail.com/
https://www.facebook.com/Webeekeepin
Bee swarm and structural hive removal. Repairs not handled by the beekeeper. Will do most hive removals in the DFW metroplex. Rates based on danger and complexity of removal
Rev Kent A. Heimbigner
TEXAS TRANSPORT PERMIT #TX-6-17-084
Burleson, Texas
817-501-0108
Services include swarm pick ups and some cut outs. Prefer to work in the Johnson/Tarrant county areas, but will travel further if necessary (an additional charge may apply if the distance is great).
Nick Crites
TEXAS TRANSPORT PERMIT #TX-6-18-088
Maverick Bees
Springtown
817-210-7201 / cowboybees@gmail.com/
Experienced beekeeper with over 10 years experience and over 400 live removals to my credit. I remove bees with minimal damage while educating people about honey bees. I do cut-outs and collect swarms. I also do excellent repairs and bee-proof many houses to prevent reinfestation. I service North Texas.
Richard Threlkeld
TEXAS TRANSPORT PERMIT #TX-6-17-075
Arlington
214-850-1558
We will remove bees from trees, water meter boxes, and homes. Prices vary with the size of the hive, the distance we have to travel, and the difficulty in getting to the hive. If we have to remove sections of wall or roof, you will have to contract skilled labor to restore the building.
Ryan Giesecke
TEXAS TRANSPORT PERMIT #TX-6-17-153
Honey Bee Relocation Services
Dallas
214-577-9562 / ryangiesecke@gmail.com/
http://www.honeybeerelocationservices.com/
http://www.tvbees.org/
Located near downtown Dallas with hives all around DFW, we offer bee-friendly removal of honey bees and bumble bees. We will tackle most any relocation job: roofs, chimneys, walls, trees, or in the ground, we've done it all. Rates vary with the situation. We are experienced professionals and carry liability insurance for removal situations. We offer thoughtful disassembly but we do not offer structural repair work. Interested in bees? We make every effort to provide an educational experience as well. Call or text.
Wes Brown
TEXAS TRANSPORT PERMIT #TX-6-18-086
Brown's Bee Removal
Crowley, Texas
682-433-3393 / wesnjess@hotmail.com
http://brownsbeeremoval.com/
https://www.facebook.com/BrownsBeeRemoval
Bee removals in Tarrant, Johnson, Hill, Bosque, Somervill, Ellis, and Navarro counties. Pricing varies with distance and difficulty of the removal.